Small enough to make sightseeing easy but dynamic enough to offer a long list of things to do, Hendersonville makes you want to linger. Wander through the eclectic mix of shops in the pedestrian-friendly downtown or enjoy a leisurely lunch on a sunny patio, and you'll know why this mountain town has become such a popular destination.
Many of the attractions focus on the area's mining roots, fruit growing, and beautiful natural areas. In summer, head outdoors to paddle or tube down a river, stop by u-pick apple orchards to enjoy some fun on the farm, or head to DuPont State Forest for some hiking. Other year-round activities include panning for gems; watching a play; or visiting the local museums, historic sites, and aquarium, many of which can be found on Main Street in downtown.
If you're looking for a romantic weekend escape, a family getaway, or a place to relax, Hendersonville makes a perfect destination. For more ideas on how to spend your time here, see our list of the top things to do in Hendersonville.
1. Stroll through Historic Downtown Hendersonville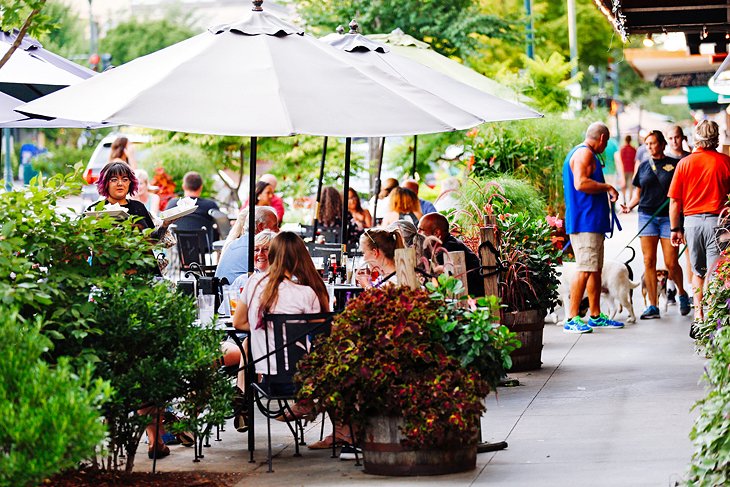 If you have time for only one stop in Hendersonville, head to the historic downtown, where interesting shops, restaurants, museums, and galleries line the sidewalks of Main Street. Many of these are housed in lovely old restored buildings listed on the National Register of Historic Places. In summer, this area comes to life, and diners can enjoy a selection of restaurants offering outdoor seating.
Several of Hendersonville's best attractions are within easy walking distance of each other along Main Street, including the Appalachian Pinball Museum, the Mineral and Lapidary Museum, the Hands On! Museum, the Team Ecco Aquarium & Shark Lab, and the Pisgah Forest Gem Mine. You can find a full day of things to do right here on Main Street.
2. Visit a Gem Store & Pan for Gems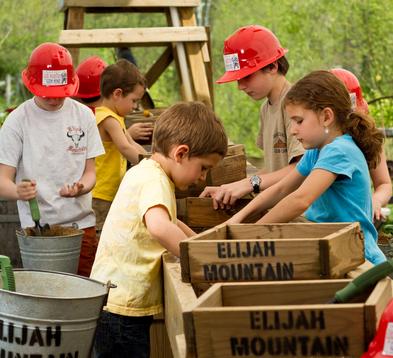 To experience firsthand some of the area's mining operations, stop by one of the area's gem mines to try your hand at panning for gem stones. The Elijah Mountain Gem Mine, about five minutes from Hendersonville, is one of the most popular gem mine stores in the area, and families looking for fun things to do in Hendersonville will find this place is a hit. This roadside stop offers indoor and outdoor panning areas, depending on the season, along with a petting zoo and a large shop selling gems and jewelry.
If you don't want to make the trek out here, the Pisgah Forest Gem Mine is located right on Main Street in Hendersonville. This is more of a retail destination, but it does allow visitors an opportunity to purchase a bucket and pan for minerals in the store. It's an interesting stop if you are strolling the downtown area.
3. Tour Carl Sandburg Home National Historic Site
Poets and writers will find inspiration from a visit to Carl Sandburg Home National Historic Site, and everyone can appreciate the beauty of the home and gardens of this Pulitzer Prize-winning poet. Sandburg was awarded two Pulitzer Prizes during his career: one for his biography on Abraham Lincoln, and another for his work titled Completed Poems.
Set at a high point on the 267-acre property, the country home remains much as it was when Carl Sandburg, along with his wife and three daughters, lived here. The modest furnishings reflect the man who was known as the "Poet of the People." Perhaps most striking is his extensive collection of books, which line the walls in every room.
Mrs. Sandburg raised goats here and ran a dairy operation known for high quality milk. You can tour the barn separately on your own. The house must be visited on a guided tour. The walk from the parking area takes about five to 10 minutes and is uphill along a paved path. Visitors with mobility issues can request assistance.
Official Site: https://www.nps.gov/carl/index.htm
4. Have Fun on the Farm at Grandad's Apples N' Such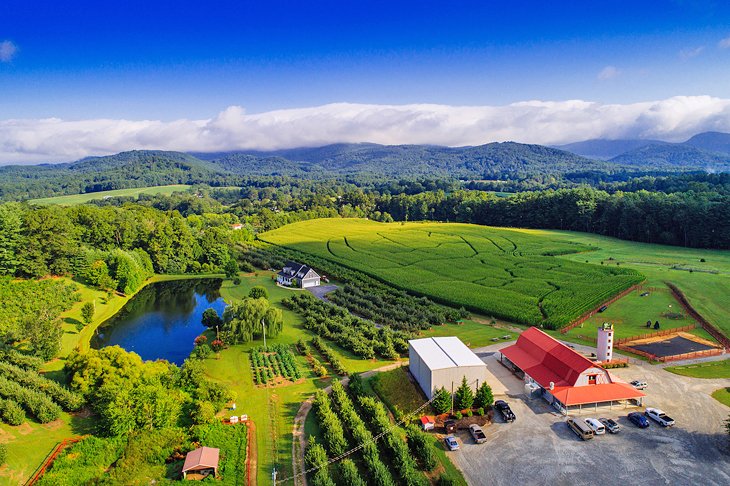 Grandad's Apples N' Such offers the opportunity to enjoy a fun-filled summer or fall day on the farm. A maze carved out of five acres of corn fields is one of the major attractions, but you'll find a full range of activities, from games you've probably never heard of to feeding farm animals. Pick apples or just purchase pre-picked apples and other produce, and in the fall, pick a pumpkin. Also, be sure to check out the bakery.
Official Site: www.grandadsapples.com
5. Hike in DuPont State Recreation Forest
This area gained notoriety when it was used as one of the film locations for the first Hunger Games, but you don't need to be a fan of the movie to appreciate the setting here. Just 30 minutes southwest of Hendersonville, DuPont State Recreational Forest covers more than 10,000 acres of lakes, rivers, wilderness, and dramatic waterfalls. Hiking trails meander through the tall trees and rhododendrons, and picnic shelters offer places to relax.
One of the more popular hikes, with a high reward-to-effort ratio, is High Falls Loop Trail. This 2.2-mile trail leads past High Falls and Triple Falls, and was used in the filming of the Hunger Games. Short spurs lead to other interesting sites, including a covered bridge above High Falls and access to the river's edge. The rhododendrons lining the trail bloom in April or May.
6. Watch a Play at Flat Rock Playhouse
The Flat Rock Playhouse holds the unique title of State Theatre of North Carolina. Created by the Vagabond Players, whose roots go back to 1937, the Flat Rock Playhouse was built here in the 1950s, making it a long-standing institution in the community. The theater hosts a full lineup of shows, from drama and Broadway musicals to concerts. They also focus on education, offering apprentice programs and other offerings.
The Flat Rock Playhouse is located in the town of Flat Rock, just a few minutes from downtown Hendersonville. Nearby is the Carl Sandburg Home National Historic Site.
Official Site: https://flatrockplayhouse.org
7. See the View from Jump Off Rock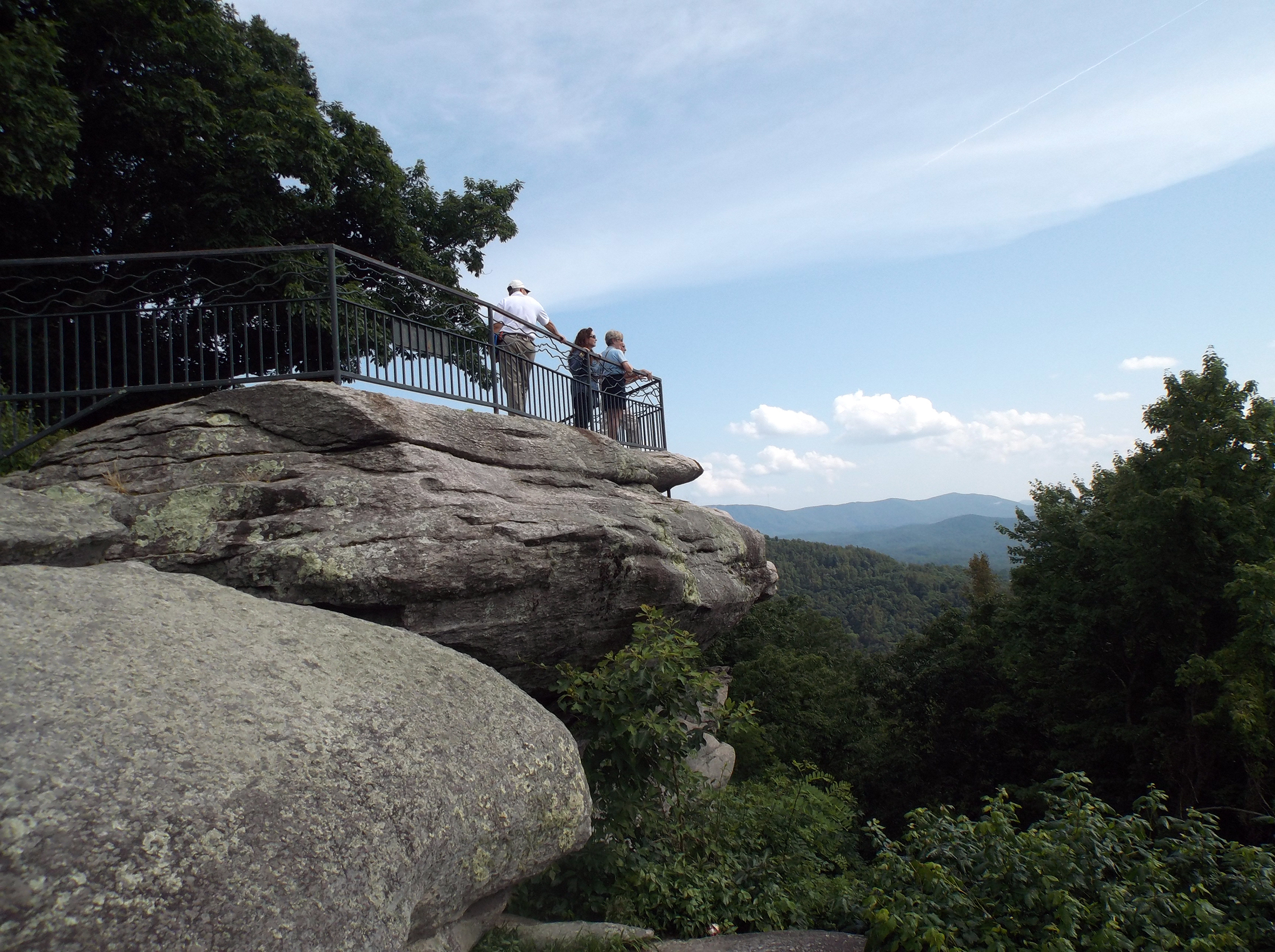 Looking out over the Blue Ridge Mountains from an elevation of 3,100 feet, the view from Jump Off Rock is one of the best in the area. A winding road just outside of Hendersonville offers easy access to this scenic area. Short trails, all of which take less than 30 minutes to walk, run along the hillside below or around the lookout. On a sunny day, this is a beautiful area to sit and appreciate the views or go for a quick stroll.
8. Paddle or Tube on the French Broad River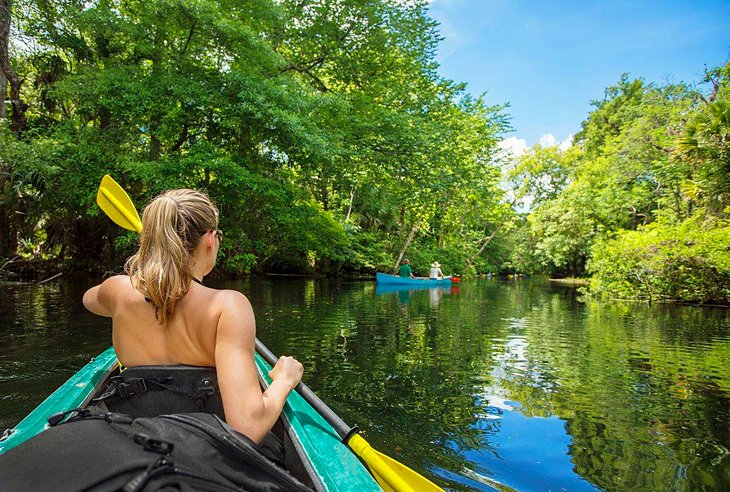 The French Broad River meanders through the scenic Blue Ridge Mountains, creating a natural playground for outdoor sports. Canoeing, kayaking, and tubing are some of the popular summer activities on the river. To arrange an outing on the river during your stay in Hendersonville, you may want to begin with a stop at Lazy Otter Outfitters just 10 minutes from downtown. They can arrange a variety of trips, ranging from a couple of hours to a half day on the river.
Official Site: www.lazyotteroutfitters.com
9. Test Your Skills at the Appalachian Pinball Museum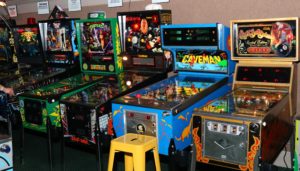 Relive the games of your youth at the Pinball Museum on Main Street. If you were ever a fan of these machines, you won't be disappointed. A very reasonable flat fee allows you access to 35 pinball machines and 25 video games. Playing the games, with the familiar flashing light and sounds, can make an hour feel like two minutes, so plan your visit accordingly and set aside some time. This is a great way to spend an evening, a rainy afternoon, or a cool day.
10. Watch Shark Feeding at the Team Ecco Aquarium and Shark Lab
More than just a typical aquarium, this facility on Main Street offers a unique perspective on aquatic life and is primarily a teaching facility, which opens its doors to the public. Most interesting for visitors, bamboo sharks, rays, crabs, and other residents are hand-fed by a diver in a 2,000-gallon tank, interacting with the fish.
Talk to volunteers, many of whom are students and interns, to learn about how the fish recognize individual people, and find out what's really going on in each of the smaller tanks. Other popular residents include tortoises, turtles, and lizards, including a large Savannah monitor lizard.
11. Take the Kids to the Hands On! Museum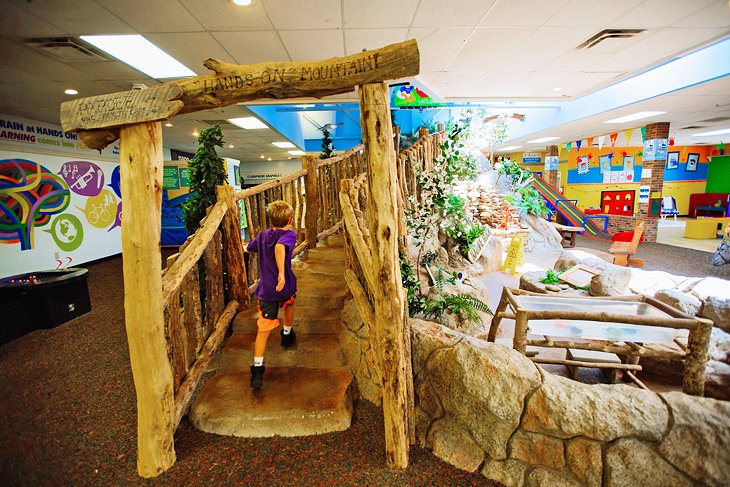 Colorful and engaging displays provide opportunities for fun and learning at the Hands On! Museum. Exhibits range from art and nature to experiences of every day life, like the Post Office, Pet Hospital, and Grocery Store. Children are also invited to get creative and express themselves with exhibits like the Play Stage and the Art and Sensory Studio.
Conveniently located on Main Street, this museum makes a perfect addition to a family visit to Hendersonville. If you have older kids with you, they may want to check out the Pinball Museum down the street.
12. Learn about Minerals and Fossils at the Mineral & Lapidary Museum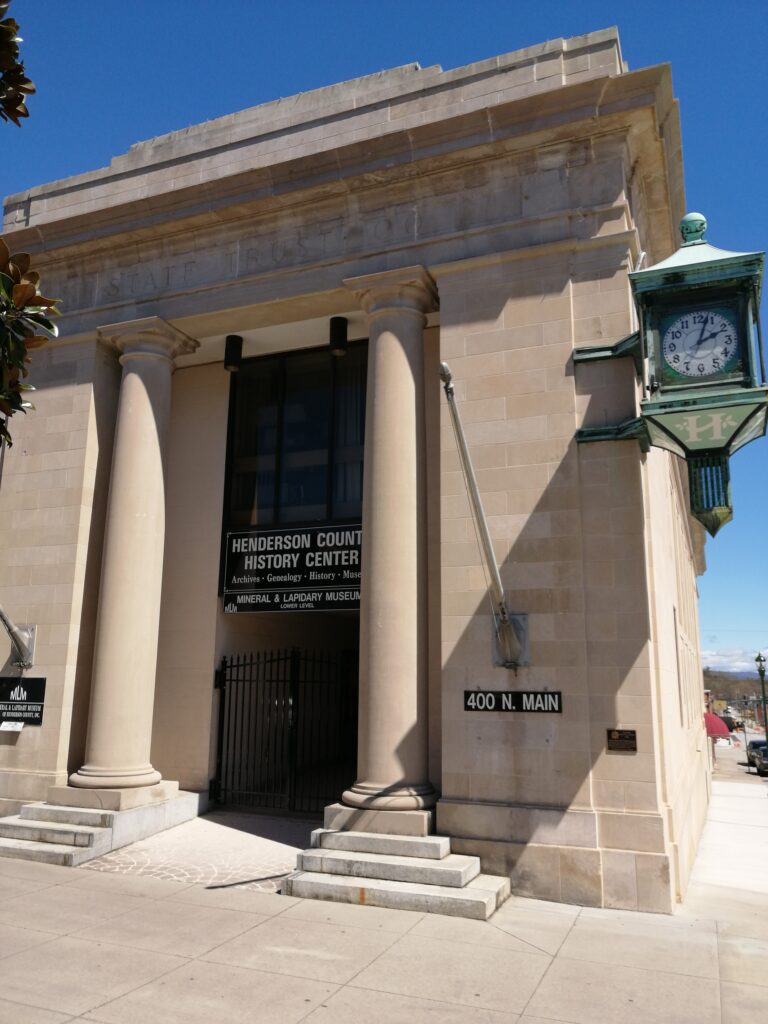 Where to Stay in Hendersonville
Many of the main attractions are in downtown Hendersonville or nearby Flat Rock, but the area is very compact, and distances are short. Where to stay depends more on the type of accommodation you are looking for. You can find historic B&Bs, perfect for romantic getaways, modern hotel chains, and family-focused properties, all within easy distance of the major attractions of Hendersonville. Below are some of our recommended hotel choices.
Luxury & Mid-Range Hotels: The oldest surviving inn in Hendersonville, 1898 Waverly Inn offers old-world charm, in keeping with the area. Trees and gardens surround the inn, and rocking chairs line the porch. Individually designed rooms come in a variety of sizes and prices.With a slightly more modern appearance but an equally appealing ambience is the Charleston Inn. Both of these B&Bs are in a wonderful location within walking distance of the restaurants and attractions on Main Street.

Families looking for a pool and entertainment for children should head to the Cascades Mountain Resort. The huge indoor pool area, complete with a waterslide, is a central feature of this pet-friendly hotel. There is also an adults-only hot tub area with three separate whirlpools, and an upscale restaurant on the property.

For the dependability of a quality chain hotel, have a look at the Hampton by Hilton, with modern rooms and suites, as well as an indoor pool, and the Holiday Inn Express & Suites Hendersonville SE.
Budget Hotels: At the upper end of budget, Mountain Inn and Suites is a quality value hotel, just north of Hendersonville, featuring comfortable rooms. Another good option is the pet-friendly Ramada by Wyndham.