With ten exclusive guest rooms and an in-house restaurant that serves five-star, farm-to-table cuisine complete with herbs fresh from our Inn's own garden, Asa Ransom House knows what visitors desire at a bed and breakfast. Your If you're a shop-till-you-drop personality, or just like to take a piece of each place you visit home with you, these suggestions for shopping in East Aurora, NY, are sure to impress. Don't forget to request our free Travel Guide for more ideas about how to spend your stay at Asa Ransom House!
Get Your Free Vacation Guide Now!
The Best Spots for Shopping in East Aurora, NY
Vidler's 5 & 10 Variety Store
An enchanting novelty store stands out among other shops on Main Street only 15 miles from Asa Ransom House. The gold lettering and red paint reading "Vidler's" draws the eye in, but the shop's gold lettering doesn't hold a candle to the perpetual smile of the "Vidler on the Roof." The Vidler on the Roof stays perched atop the 5 & 10 and waves to passersby.
The shop was championed by Robert S. Vidler during the Great Depression and now stocks over 75,000 items, so Vidler's 5 & 10, has something for everybody. Most notably, Vidler's offers these 5 Things You Can Still Only Get at a 5 & 10 Store. Today, its merchandise ranges from novelty items such as a Yodelling Pickle to retro and nostalgic items like an original model Superman figurine. For those not wishing to shop for odds and ends, the 5 & 10 also offers kitchen essentials and souvenirs to commemorate your trip!
With the store stocking 75,000 items, Vidler's knows that sifting through merchandise can be overwhelming, and is known for the excellent customer service its employees provide. So, if you're looking to do some shopping in East Aurora, NY, start your trip at Vidler's 5 & 10, then move along to the other suggestions below!
Beulah's General Store
While you're on Main Street, pop on over to Beulah's General Store. Beulah's is owned by Heather Sprague, an East Aurora native who believes in stocking local products and internationally crafted merchandise. In an article with the East Aurora Bee, Sprague noted that knowing exactly how purchasing a particular product will impact the craftsman is socially responsible and allows visitors to "shop with purpose." Fostering a more boutique feel, Beulah's keeps up with the latest trends in fashion and home decor by stocking trendy items from local merchants; making it an ideal place to shop for gifts, or to treat yourself, in East Aurora, NY.
Head Over Heels
To complete your shopping trip on Main Street in East Aurora, NY, head on over to Head Over Heels. A boutique store specializing in trendy and funky footwear, Head Over Heels offers visitors a unique experience before they even walk in the door. Decorated with black and white polka dotted window trim, the shop believes fun and fashion go hand-in-hand. The shop also stocks the latest and greatest in clothing and accessories and is known for their reasonable prices across the store. According to one Yelp! Reviewer, Head Over Heels is "an accessory and shoe lovers paradise." This last stop during your shopping experience is the perfect ending to your day trip.
Stay Near the Best Places for Shopping in East Aurora, NY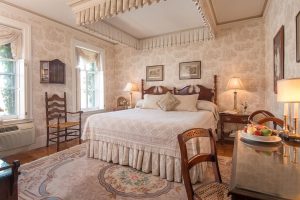 Situated closely to Niagara Falls and downtown Buffalo, staying at Asa Ransom House puts you in a prime location to sightsee, have an adventure, or relax. Not to mention, you can wake up each morning to a three-course, full country breakfast when you stay with us! With several guest rooms that each offer unique amenities, we have something for everybody's needs. Couples looking to stay with us would enjoy the Joseph Ellicott room. Complete with a king-size bed and view of our garden, this room is one of the best!
View a complete list of our rooms and book your stay with us today!
The post 3 of the Best Spots for Shopping in East Aurora, NY appeared first on Asa Ransom House.