Get outside and explore nature this season! If you're looking for the perfect place to enjoy the great outdoors in Western NY, try Amherst State Park. Measuring 80 acres, it's a hidden gem offering fantastic trails and landscapes. Here, you can avoid the crowds that some other local parks attract and still enjoy a wonderful adventure. Discover some of the best ways to experience this scenic spot!
In addition to Amherst State Park, feel free to explore the neighboring town of Clarence. Here, you can stay at Asa Ransom House and check out endless local activities and attractions! Request your free Vacation Guide to Clarence, NY, now! We packed it full of local tips and suggestions for things to do nearby. Get your free guide now and take a look at what you could experience here!
Enjoy Some of These Fun Activities at Amherst State Park
1. Hiking
Amherst State Park has a diverse landscape, featuring sprawling meadows, old apple orchards, and forest. Throughout the area, you can choose from eight different trails for leisurely hikes. Along these pathways, you can explore the native ecosystems from flowers to mammals.
Did you know that the Park recently became a Certified Wildlife Habitat? During your hike, you may be able to spot white-tailed deer, chipmunks, and woodchucks. There's also over 180 confirmed species of plant life here, including Canada Goldenrod and Chicory.
Keep in mind that as long as you keep your dog on a leash, you're welcome to bring your furry friend along with you to the park! Amherst State Park is very dog-friendly and offers plenty of space for you both to get exercise.
2. Birdwatching
In addition to plants and mammals, bird species are abundant here. Migratory birds find seasonal homes here, making it perfect for birdwatching! See if you can catch sight of Carolina Wrens, Belted Kingfishers, and even Great Blue Heron! While they aren't technically birds, you can also find another type of majestic flying creature here. Monarch butterflies are known to fill the area due to the plethora of milkweed plants nearby.
3. Fishing
Amherst State Park encompasses a major section of Ellicott Creek, too. This means plenty of opportunities for anglers to reel in some fish. In warmer months, you're likely to catch bass, carp, and pike. When the weather cools down more, you may find more trout in the waters. There's even a place to launch your kayak if you want to get out onto the creek.
Stay at Asa Ransom House Nearby!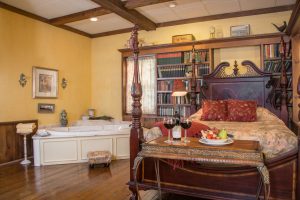 Are you looking for a comfortable place to stay in the Western NY region? Look no further than Asa Ransom House! Our charming bed and breakfast is in Clarence, a short drive from Buffalo and Niagara Falls. If you're interested in hiking or fishing at Amherst State Park, you can reach it in just 15 minutes! We have several uniquely-designed guest rooms for you to choose from with elegant, Victorian-style decor. We also invite you to join us for gourmet dinners at our restaurant!
Step inside our Country Garden Suite for an excellent lodging experience. The luxurious, queen-size, four-poster bed promotes an unmatched level of relaxation and rejuvenation. Step through your French doors and find a serene sitting area and herb garden. Or, sit by the fireplace and library corner in a comfortable loveseat. In the morning, wake up to a three-course country breakfast made from fresh ingredients.
Once you stay with us once, you'll want to keep coming back. Check our availability now and book your relaxing getaway to Asa Ransom House! We hope to see you soon.
The post 3 of the Most Fun Ways to Explore Amherst State Park appeared first on Asa Ransom House.