Is a relaxing getaway on your Christmas wish list this year? We can help make it come true! Below, you'll find some of our favorite Niagara Falls Christmas events. They're all a short drive from our bed and breakfast in Clarence, NY! From gingerbread houses to brightly lit Christmas trees, there's no shortage of holiday cheer in Western New York. Find out what's coming up this year and share the magic of Christmas with your loved ones! Just don't forget to explore our free Vacation Guide to discover even more festivities and wintertime attractions nearby! It's our gift to you!
Discover the Wonders of Clarence, NY!
Celebrate the Holiday Season With These Niagara Falls Christmas Events
Gingerbread Wonderland
On weekends from the end of November through December, the Niagara Falls Culinary Institute transforms into a holiday paradise. When you arrive at their Gingerbread Wonderland, you can explore a spectacular, life-size gingerbread village! Everywhere you look, there are festive decorations, chef demonstrations, and holiday crafts opportunities. You can even sit down for breakfast with Santa Claus!
Jingle Falls USA
The annual tradition of Jingle Falls USA continues this year! For several weekends leading up to Christmas, you can find a plethora of celebrations throughout Niagara Falls, NY. It all kicks off with the Festival of Slice, an excellent opportunity to fill up on delicious food and holiday cheer. Then, you can make your way to the Cave of Winds for even more festivities. The list goes on, and the events never cease to dazzle visitors each year!
Niagara Wine Trail Holiday Happening
Get your holiday shopping done while treating yourself to exquisite wines! During the Niagara Wine Trail Holiday Happening, you're invited to taste exceptional beverages, purchase unique items, and even take home a souvenir wine glass from your experience. Over 20 top-rated wineries are participating this year, so make sure you don't miss out!
Festival of Trees
The Festival of Trees at Niagara Power Vista is an annual tradition for many visitors, and now it's your turn to join them! Each year, from December 1 to January 1, the halls are lined with beautifully decorated Christmas trees. There are dozens of trees donned with bright lights and Christmas ornaments, creating a magical atmosphere for the holidays. Feel free to check out the Niagara Power Vista exhibits while you're there, as well!
Castle by Candlelight
You can find yet another must-see Christmas attraction via a short drive north of Niagara Falls. Old Fort Niagara is a magnificent French castle dating back to 1726. And, for two Saturdays in December, it becomes even more remarkable. Their Castle by Candlelight celebration allows you to tour the property while surrounded by traditional holiday decor and flickering candles. Grab a cup of hot cocoa, explore the castle, and listen to Christmas tunes performed by talented musicians. Travel back to a simpler time and enjoy the essence of the holiday spirit. You won't leave disappointed!
Complete Your Holiday Getaway at Asa Ransom House
Make this Christmas season one to remember when you stay at Asa Ransom House! Our charming country inn is nestled in the peaceful paradise of Clarence, just a short drive from Niagara Falls. After taking part in all of these delightful festivities, you can retreat to one of our elegantly designed guest rooms for a relaxing evening.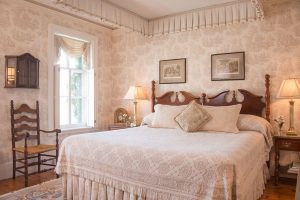 Each room has its own distinct character, crafted with beautiful decor, fine furnishings, and luxurious amenities. Take, for example, our Joseph Ellicott room. Luxury is an understatement when it comes to the king-size bed, garden views, and the spacious bath you can find inside. After a restful night, you can always count on waking up to a freshly prepared country breakfast.
There's no better place to spend your winter getaway this year. Check our availability and make your Christmas wishes come true!