Asheville – just the name sparks romance – Zelda and Scott Fitzgerald, George Vanderbilt bringing his beautiful young wife Edith to his Biltmore Estate, Carl and "Paula" Sandburg and their goats – it's a place that conjures grand gestures and dreams of love. Autumn, particularly, is a time to think cozy thoughts and plan some time with your beloved – here are five of the most romantic things to do in Asheville to inspire you!
1) Let's start with the obvious – The Biltmore Estate – a soaring, sprawling grand home and gardens ready for you to explore – take a self-guided tour of the mansion and grounds, visit the Winery for a tasting, or rent bikes and take a ride through 20 miles of safe and well-maintained trails.
2) If you want to splurge, take a Hot Air Balloon ride over the gorgeous fall foliage – imagine floating over multi-colored trees near the Blue Ridge Parkway and Pisgah National Forest, in the peaceful early-morning with your dearest one.
3) See the foliage at street level – drive the Blue Ridge Parkway. Known as "America's Favorite Scenic Drive", the Blue Ridge Parkway is part of the National Parks Service and includes 469 miles of curvy asphalt that leads you through some of the most beautiful scenery you can imagine. This is the favorite activity for road-trip devotees.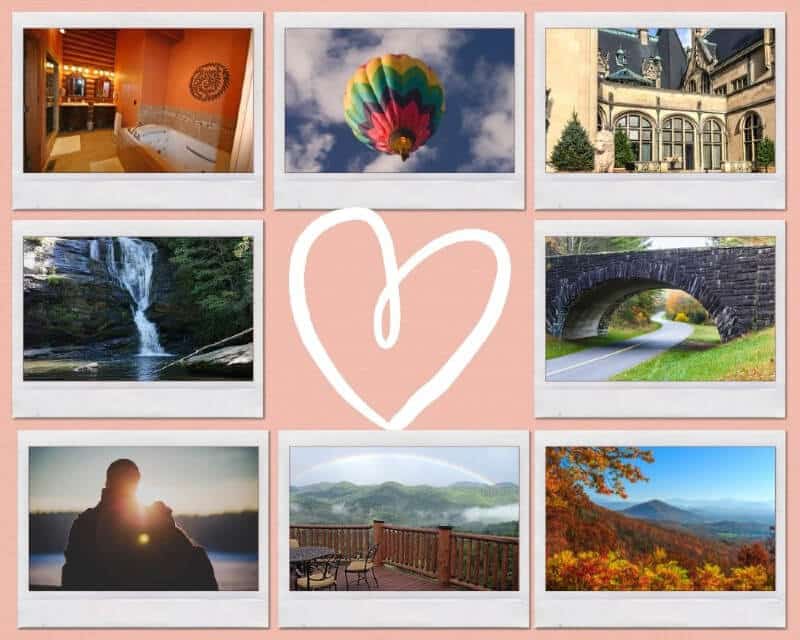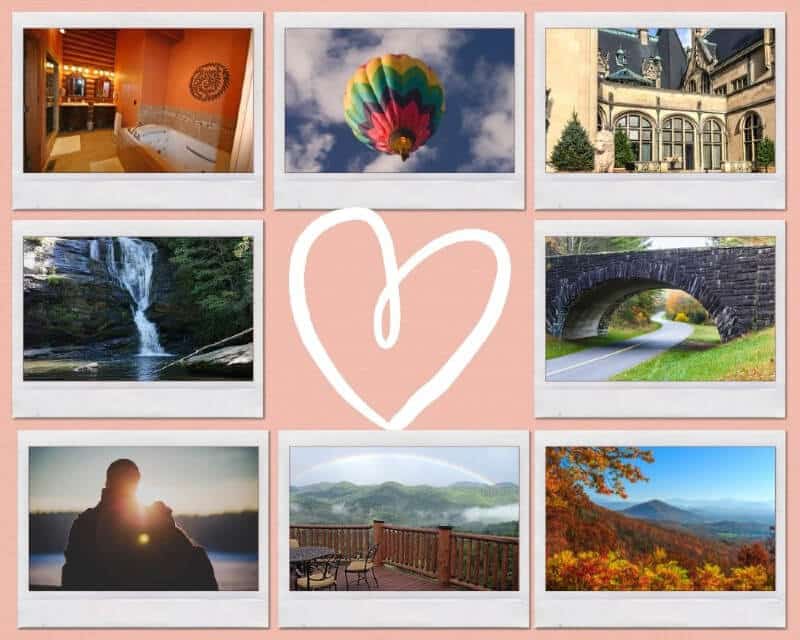 4) Waterfall hiking – did you know that the area surrounding Asheville is home to more than 60 waterfalls? DuPont State Forest is a great place to find several of these aquatic wonders! Head out on a weekday in the morning for the best chance to spend quality hiking time with your sweetheart and try one (or more!) of these romantic treks.
5) Last but not least – a getaway to Wildberry Lodge with one of our Romantic Packages, plus an in-room couples massage. Choose your favorite of our four unique rooms, the luxury suite in the main building or two cabin suites. Have breakfast in your room, and make you own plans for a sweet time of togetherness.
Check our availability calendar for the perfect time to escape with your honey to our 45-acre retreat in the Great Smoky Mountains near Asheville – you'll love your time in the forest!