One of the bright spots to emerge from a prolonged period of staying at home is the fact that people have been honing their culinary skills. As a result, one of the most popular topics online over the past few months has been recipes. Wildberry Lodge would like to share a recipe that has become a favorite of our guests for both breakfast and dessert: Glenda's Peach Crepes!
Let's Make Peach Crepes!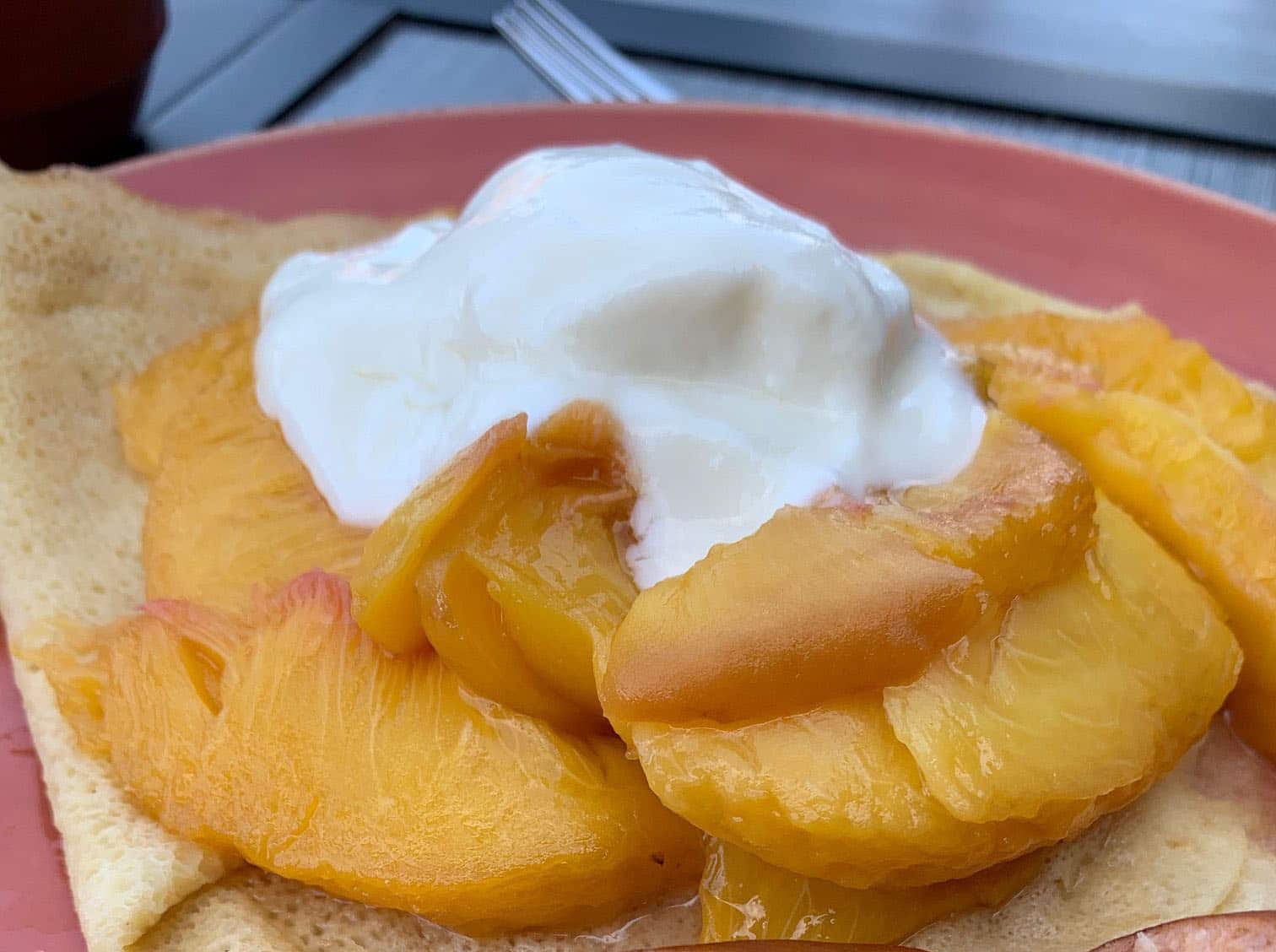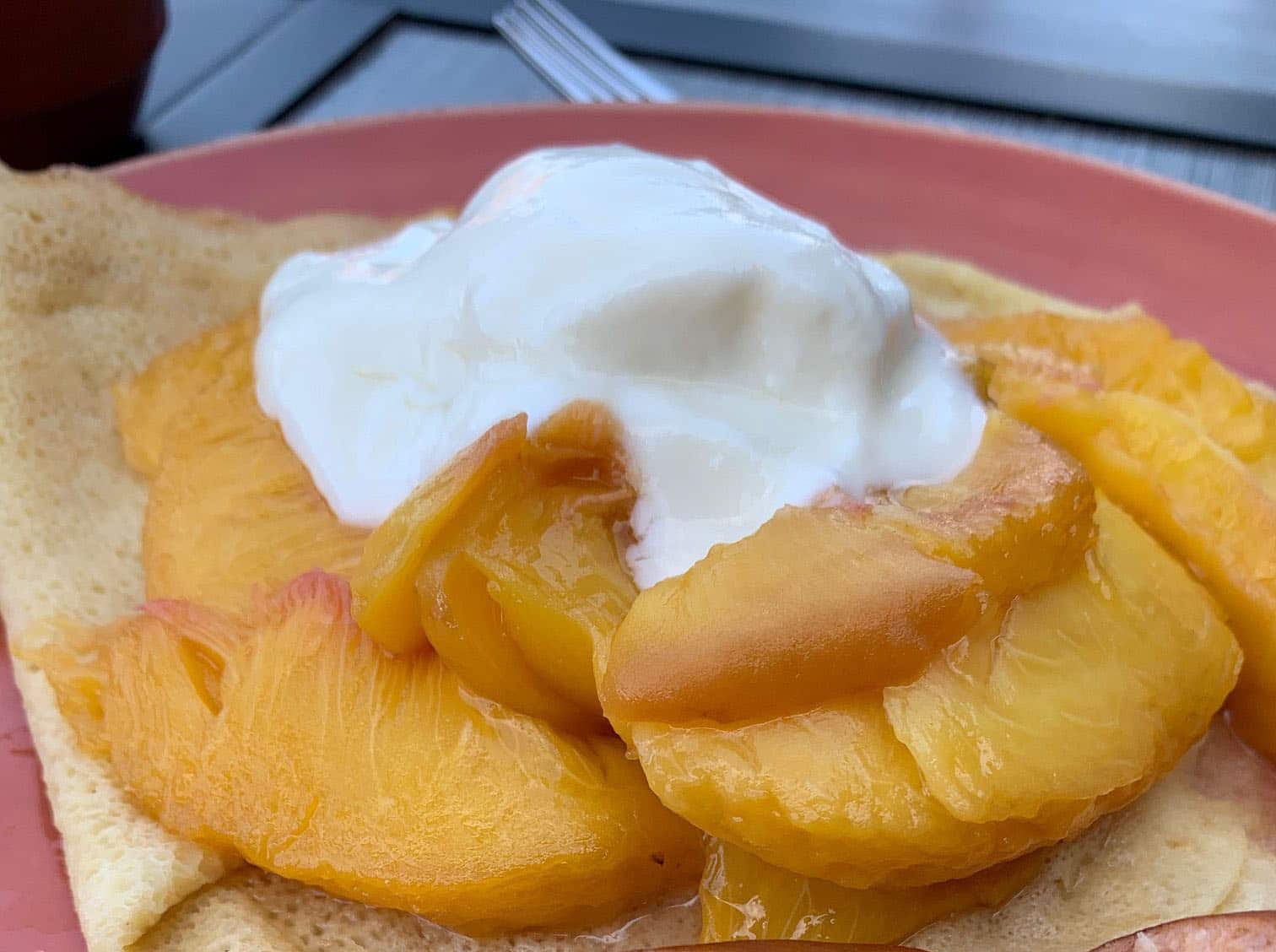 Ingredients List:
Crepes:
2 eggs

1 1/4 cup milk

1 cup flour

1 tsp vanilla

Zest from 1 orange
Peach Vanilla Syrup:
1 cup of sugar

4 medium peaches

3 cups of water

1/2 teaspoon of vanilla
Directions for Crepes:
Blend all ingredients in a mixing bowl (I use my immersion blender in a 4 cup measuring cup to reduce clean-up)

Heat non-stick pan to medium/medium high heat

Spray warm pan with cooking spray

Add 2 oz (I use a small ladle) of batter to pan and swirl the pan to spread the batter evenly over bottom. (if bubbles form immediately, the pan is too hot – reduce heat)

After the batter is set, flip the crepe to slightly brown the top side (30 sec) and remove the crepe to a plate (cover to keep warm)
Repeat steps for additional crepes.
Directions for Peach Vanilla Syrup:
Heat 3 cups of water and 1 cup of sugar to simmer

Score peaches into 1/2 inch slices and place into boiling water until skin peels up slightly – time will vary 2-5 minutes depending on ripeness

Remove peaches from hot water and allow to cool.

Discard the peel – peel should release from peach flesh easily

Reduce temperature to low, so that water is barely simmering

Place peeled peaches back into water for 10 minutes (l5 minutes if they are very ripe) to allow further cooking

Remove peaches from water and place in bowl until cool enough to handle. Remove wedges from pit and place in bowl.

Reduce peach/sugar water to 1/2 volume until slightly syrupy

Add 1/2 tsp of vanilla to peach syrup
Plate Dish:
Fold crepes into desired shape

Place peach wedges on top

Drizzle with peach vanilla syrup

Top with your favorite greek yogurt for breakfast or ice cream for a dessert dish
Click here if you'd like more of our favorite recipes
Of course you can try them in person too-make your reservation now! Just minutes from both the Blue Ridge Parkway and downtown Asheville, our bed and breakfast offers all the comforts of traditional hotels with the welcoming feel of a private home. Spacious, well-appointed guest rooms with plush, comfy chairs and beds and luxurious private baths await. All rooms enjoy tranquil views of lush greenery and our spectacular mountains
If you want more tips on how you can create an engaging online presence for your business, follow the IAA Bed and Breakfast Blog and our Facebook Page.  
The IAA Bed & Breakfast Association helps new customers find your business.  You can start enjoying the benefits today for free by either claiming your business listing on our site or you can create your new business listing.
The best part is that you can get started today for FREE!
Click the JOIN NOW button above or below to claim your FREE business listing or set up your FREE business listing.