Over the past few months, we've been experiencing what can best be described as a collective "Rip Van Winkle" moment: slowly awakening from a very long hibernation, and realizing that we are tired of being cooped up for months on end. Wildberry Lodge is encouraging people to get outdoors, stop and smell the roses, and enjoy nature. An Asheville area Garden Tour may be just the ticket: in-person or virtually, and Wildberry Lodge is just the place to begin. First, a little back story on gardening in the mountains:
The terrain in the Asheville and Western North Carolina region is a near-schizophrenic mash-up of open meadows, deep valleys and hollows surrounded by gentle hills and mountain slopes that morph very quickly into near-vertical inclines topping upwards of 6,600 feet in altitude. Frederick Law Olmstead, considered the "Father of Landscape Architecture in America", understood and allowed for this diversity as he designed the incredible gardens at the Biltmore Estate.
Garden Tour: In July 2020, Wildberry Lodge joined nearly four dozen inns across the United States, Canada, and Italy in showcasing their gardens with a series of interactive e-books and videos. Wildberry Lodge is featured in the Southern Region e-book which can be downloaded and viewed for free. This endeavor is the product of STILL INN BUSINESS, a pro-bono campaign formed in the spring of 2020 as a response to the economic downturn due to COVID-19. In addition to the spotlight on our gardens, Wildberry's portion of the book has two great videos: one showcasing the stunning views from our lodge, and the other exploring around the lodge.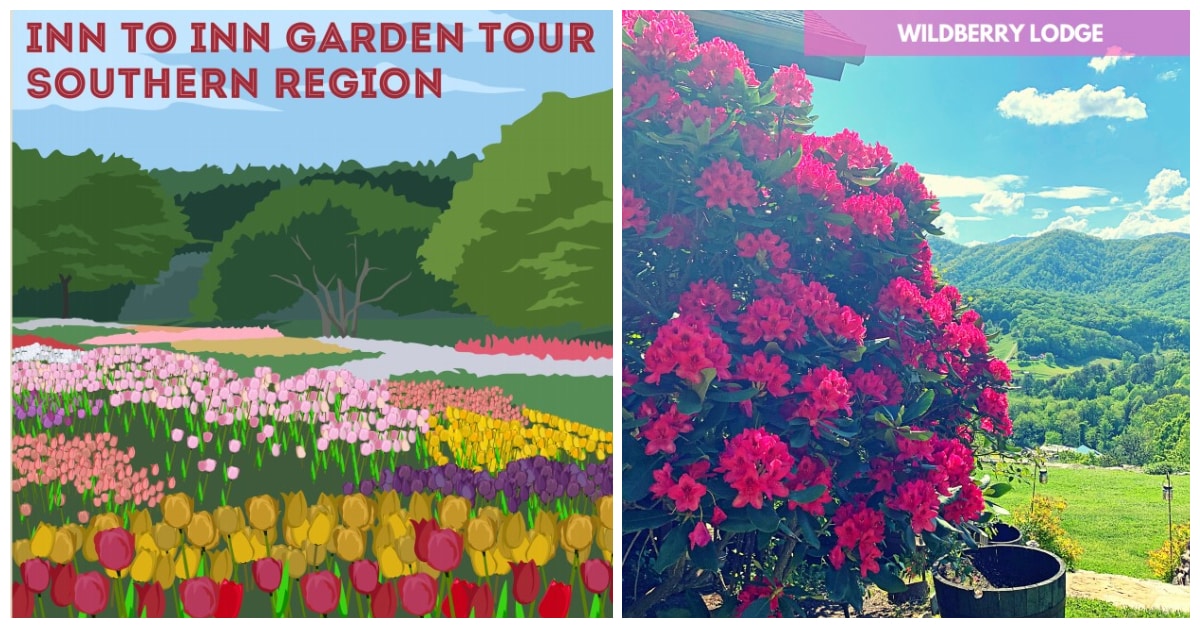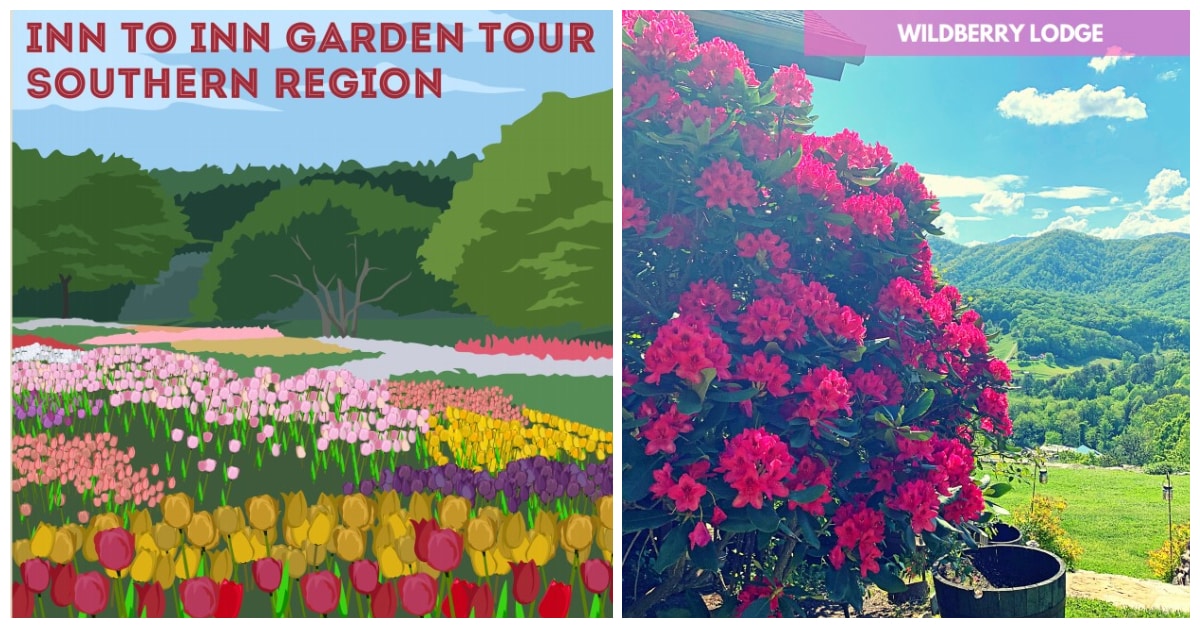 Stay Tuned… We will be bringing you information about an upcoming Art Tour slated for later this month right around the corner from our lodge…
New Cookbook: Did you know that two of Wildberry Lodge's favorites recipes are now in a cookbook? The Asheville Bed & Breakfast Association (ABBA) launched a cookbook featuring over 100 recipes of popular breakfast dishes and afternoon snacks from the Association's innkeepers. Entitled, "Morning In The Mountains," the book showcases various recipes for savory quiches, stratas, and ramekins, side dishes, sauces, and condiments, quick breads, baked French toast, pancakes, and the "sweet" side featuring cookies, tortes and the like.
Our own Mango Salsa and Pumpkin Pecan Pancakes with Apple Cranberry Compote are featured as well! The cookbook is available on the ABBA website for $25 plus tax, or you can buy directly at Wildberry Lodge or any other ABBA member inn.
We are pleased to announce the names of our two Scottish Highland calves, thanks to our Name the Baby Calves Contest! We had a great response, and we would like to to give a shout out to all who submitted names. Entries came from a wide variety of locations, including North Carolina, South Carolina, Georgia, Missouri, Illinois, Kansas, and as far north as Wayne, Pennsylvania (just outside of Philadelphia, on the Main Line).
The winning entries were chosen from South Carolina (girl) and Illinois (boy). Our baby girl is now called "Skye," thanks to Lacie Lisa Barber of Greer, South Carolina. And our boy is now named "MacLeod," thanks to Jim Neururer of Palatine, Illinois! Thanks to everyone who participated!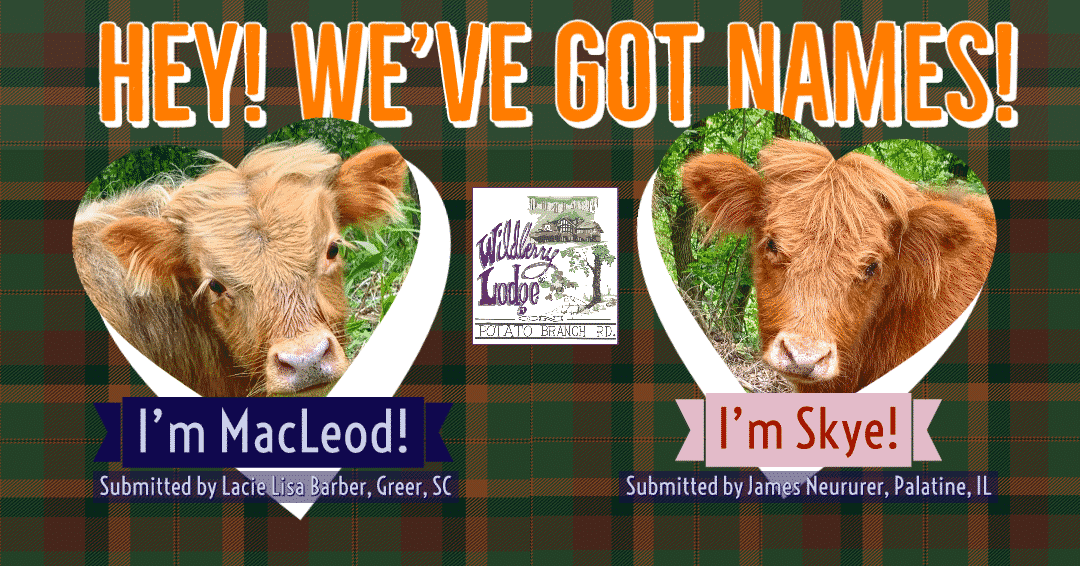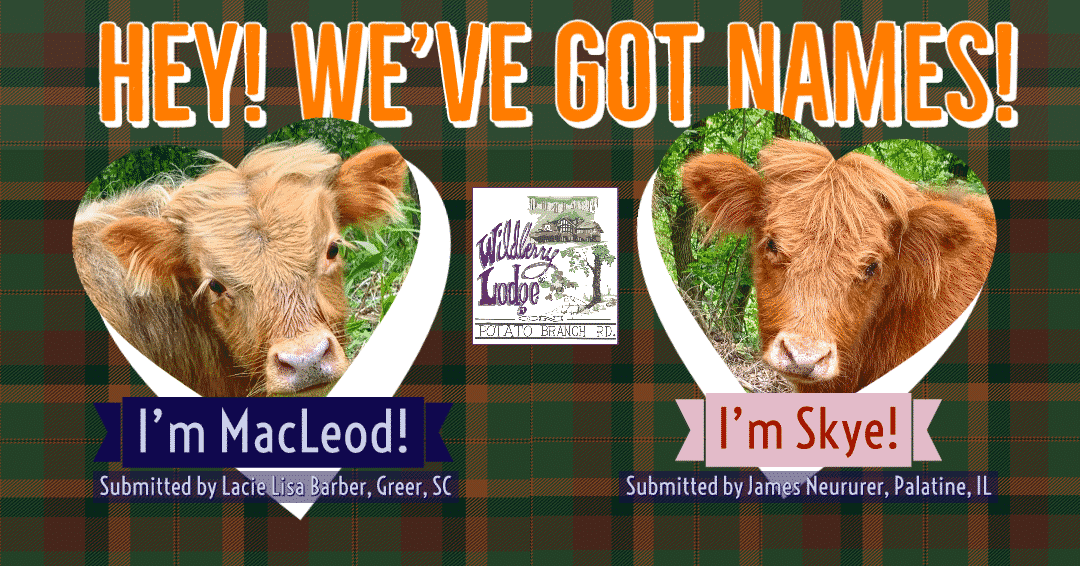 Start planning your getaway to Wildberry Lodge. We are just minutes from downtown Asheville, NC state parks, the French Broad River and the Biltmore Estate. Spacious, well-appointed guest rooms with plush, comfy chairs and beds and luxurious private baths await. All rooms enjoy tranquil views of lush greenery and our spectacular mountains. Check out our specials, book online or call us at 828-683-2525.