We're updating the old adage of "April showers bring May flowers" into "April's Here, Grab A 9-Iron And A Beer, and Let's Cheer!" WNC is blessed with an abundance of great golf, both public and private, as well as a plethora of breweries, live music and more-and we're celebrating all the great spring happenings in Asheville NC!
Wildberry Lodge Golf Package 2021:
Rated one of the finest courses in America, The Omni Grove Park course was designed by the legendary Donald Ross, a member of the PGA Hall of Fame. Experience this gorgeous course at reduced rates when you book our 2021 Golf Package. An added bonus: clubs are included in Wildberry Lodge's special rates – a $65 value! Call now to book your tee time 828-683-2525.
And, with Mother's Day just around the corner, why not treat your special "mom" to a relaxing mountain weekend escape? Just give us a call or book online!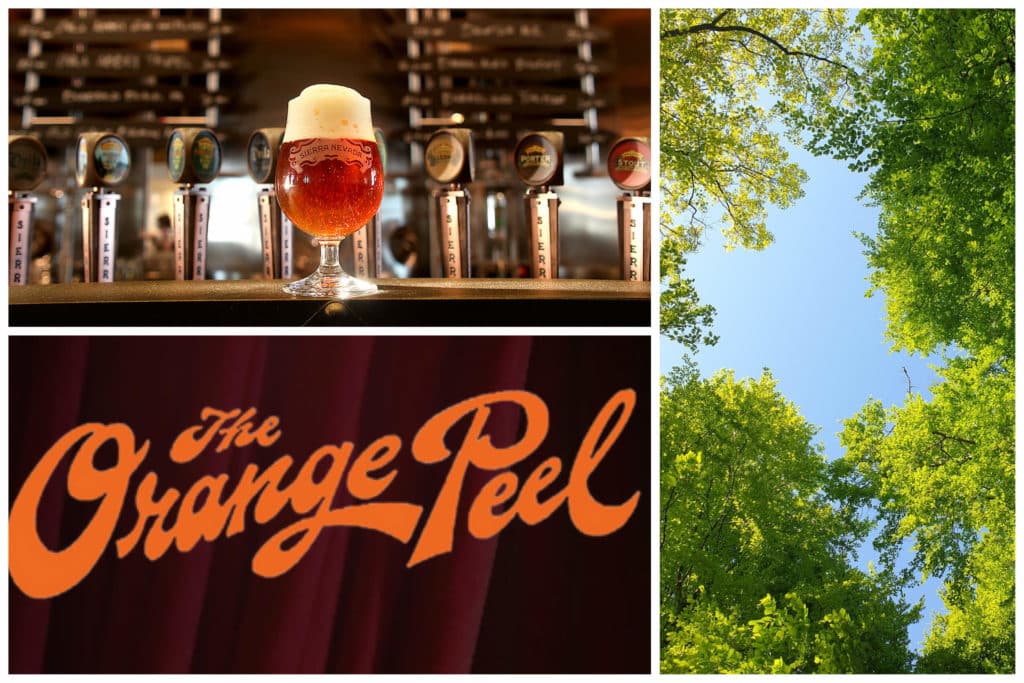 Forest Bathing:
What The Heck Is It? Relax, this does not involve removal of clothing or bathing with water. The concept of Forest Bathing comes to us courtesy of Japan, where back in the 1980's researchers observed that those who took time to get outside and immerse themselves in nature had reduced stress, improved mental clarity and higher functioning immune systems. Asheville Wellness Tours offers Forest Bathing Tours so you too can slow down, relax and fully experience what the forest has to offer.
Music Is Back:
The Orange Peel Is Re-Opening! After more than a year of being closed and amid concern that the closure would be permanent, Asheville's renowned Orange Peel announces live shows for 2021 beginning April 30th with Woody Platt & Graham Sharp of the Steep Canyon Rangers. More shows are being added daily. For more information on the Orange Peel's plans for safe live shows, click here.
Sierra Nevada Brewing is back:
Founded in Chico, CA, Sierra Nevada has just 3 locations throughout the US-and one of them is right here in Mills River. Sierra Nevada is planning to reopen for dining and taproom visitors on May 12. Dining will be reservation only and taprooms + gift shops will reopen at 50% capacity.
Come Fly With Me:
Our northern friends in Philly and NYC will be pleased to know that American Airlines is adding routes from the Asheville Regional Airport to Philadelphia and NYC. Daily flights to Philadelphia International Airport will begin April 2 and seasonal, Saturday flights to New York's LaGuardia Airport will start May 8. You've got to come visit us now!
Whether your goal is romance, beer, golf or simply being a tourist, Wildberry Lodge is your luxury mountain lodge retreat! Sink into the comfy couches in our Great Room and enjoy a libation alongside our 32-foot stone fireplace, hike our private miles of trails, and enjoy a hearty breakfast in your room, in our dining room, or in a socially-distanced outside setting. Spacious, well-appointed guest rooms with plush, comfy chairs and beds and luxurious private baths await. All rooms enjoy tranquil views of lush greenery and our spectacular mountains. Check out our specials, book online or call us at 828-683-2525.
The post Blog first appeared on Wildberry Lodge.