Whether you're celebrating an anniversary or you'd like to surprise your special someone with a spontaneous trip, we can help. Romantic getaways in Western NY are the ideal way to make lasting memories together, and Asa Ransom House is the perfect spot for them. You can enjoy our quiet retreat in Clarence, cross Niagara Falls off your bucket list, and explore downtown Buffalo all in one weekend! Scroll down to get started, and don't forget to browse our free Vacation Guide to make your experience even more memorable!
Access Your Free Vacation Guide Now!
Follow Our Guide to an Incredible Romantic Getaway in Western NY
Experience the Wonder of Niagara Falls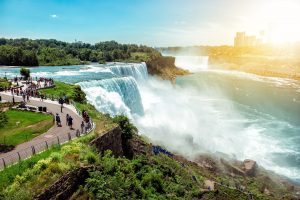 The first stop on your romantic adventure should be Niagara Falls. Step aboard the Maid of the Mist for a unique voyage up to the roaring water, or enjoy its magnificence from various vantage points nearby. Save time to check out Goat Island and snap some pictures from above the Falls. The view from Terrapin Point is unbeatable!
Your experience doesn't have to stop there. If you're both wine lovers, be sure to explore the Niagara Falls Wine Trail as well! You can stop in for tastings, tours, and more at over 20 wineries.
Enjoy a Gourmet Dinner by the Fireplace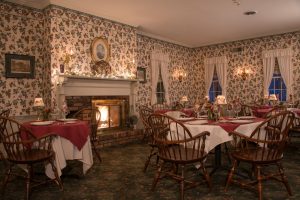 After visiting Niagara Falls, a delicious dinner menu awaits you at Asa Ransom House. Our top-rated restaurant is just a short drive from the Falls and features gourmet options like jumbo scallops, almond-raspberry chicken, and lobster ravioli. We source many of our fresh ingredients directly from the garden on our property! Reserve a table in our dining room by the fireplace and enjoy an intimate dinner with one another. Just remember to save room for our homemade desserts!
Catch a Breathtaking Show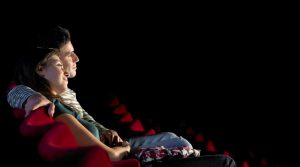 Feel free to make it an evening of dinner and a show with our exclusive Dinner Theater Package! This popular option includes our delicious food followed by a remarkable performance at the Lancaster Opera House nearby. You can take your pick from their schedule of plays, musicals, and concerts and make it a night to remember. Sit back, relax, and watch their talented performers dazzle you within this historic building.
Return to an Elegant Room at Asa Ransom House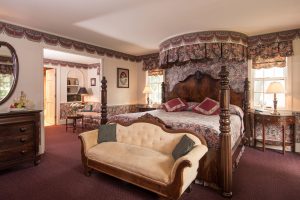 To complete the perfect romantic getaway in Western NY, we invite you to stay at our charming bed and breakfast in Clarence. From our beautiful gardens and pond to the expertly designed rooms inside, you couldn't ask for a better place to spend time together.
Each of our guest rooms features unique decor and distinctive character, and the Renaissance room is a perfect example. Inside, you'll find a luxurious king-size bed with intricately carved wood accents and a cozy fireplace to relax after a long day. And, as with all of our accommodations, it comes with a freshly prepared country breakfast each morning!
Check our availability and get one step closer to a romantic getaway that you'll remember for years to come. We look forward to welcoming you to Asa Ransom House
If you want more tips on how you can create an engaging online presence for your business, follow the IAA Bed and Breakfast Blog and our Facebook Page.  
The IAA Bed & Breakfast Association helps new customers find your business.  You can start enjoying the benefits today for free by either claiming your business listing on our site or you can create your new business listing.
The best part is that you can get started today for FREE!
Click the JOIN NOW button above or below to claim your FREE business listing or set up your FREE business listing.