Did you know that Asa Ransom House is located just 28 miles from the roaring waters at Niagara Falls? It's a spectacular attraction year-round with incredible vistas. Fill your camera with stunning photographs and your head with unforgettable memories by checking out the Niagara Falls fall foliage this year! Find out everything you need to know to immerse yourself in the rich hues of red, orange, and yellow. Plus, be sure to explore our free, digital Vacation Guide for even more scenic landmarks, outdoor adventures, and acclaimed restaurants in Western NY!
The Best Vantage Points for the Niagara Falls Fall Foliage
Niagara Falls State Park on Goat Island
Goat Island is a fantastic first stop on your autumn getaway to Niagara Falls. This charming island is nestled right between the Horseshoe Falls and Bridal Veil Falls. While you're here, be sure to head up to Terrapin Point and snap a few pictures. Whether it's for a scrapbook or Instagram, it's well worth capturing this remarkable vista. Or, feel free to go for a hike through Niagara Falls State Park. It's a beautiful area offering sights of the vibrant foliage in the crisp autumn air.
Niagara Falls is something everyone should see at least once. Consider a Niagara Falls road trip for the adventure of a lifetime!
Whirlpool State Park
You can also take a stroll through Whirlpool State Park located near Niagara Falls. Lace up your walking shoes and venture along the Niagara River to see this natural phenomenon up close. It's an excellent environment for picnics and romantic dates for couples. Feel free to rent a bike and ride through the area or even find the perfect spot to cast your line and reel in brag-worthy fish. Visitors are welcome year-round, and we recommend going there in mid-to-late October for the peak foliage season.
Maid of the Mist
Did you know that Maid of the Mist tours are available until early November? It may not be the most conventional way to enjoy the fall foliage, but it's certainly a memorable one. Hop on board, put on your poncho, and get ready for the experience of a lifetime! On this historic boat, you can get up close to the three major waterfalls of Niagara Falls and view the incredible foliage all around you. It's one of the most popular things to do at Niagara Falls for a good reason. Make sure it's on your itinerary this year!
Return to the Luxury of Asa Ransom House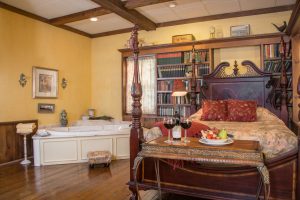 After a full day of exploring Niagara Falls, we welcome you to enjoy an evening of rest and relaxation at Asa Ransom House. Our country inn and restaurant in Clarence, NY, offers the ultimate destination for a peaceful retreat this fall. You can even take advantage of our exclusive specials and packages, like our Romantic Getaway package, to enhance your stay further. Did we mention that we're just a short drive from Niagara Falls and Buffalo?
Escape to one of our elegantly designed rooms, like the Country Garden Suite for an unparalleled lodging experience. This spacious room features a luxurious queen-size bed, a large whirlpool tub, and a private bathroom. You can even walk through the French doors to find a tranquil space to lounge by the garden. All of our guests can also wake up to full, gourmet breakfast each morning and enjoy afternoon tea, lunch, and delicious dinners. Get started on your romantic autumn retreat to Western NY. Check our availability and book a stay today!
If you want more tips on how you can create an engaging online presence for your business, follow the IAA Bed and Breakfast Blog and our Facebook Page.  
The IAA Bed & Breakfast Association helps new customers find your business.  You can start enjoying the benefits today for free by either claiming your business listing on our site or you can create your new business listing.
The best part is that you can get started today for FREE!
Click the JOIN NOW button above or below to claim your FREE business listing or set up your FREE business listing.