Would you know if someone's visited your bed & breakfast website? What if they visited and then left without making a booking.  That's not a good scenario for you.  Don't you wish you had a second chance with them?
You may wonder if there anything that you do to win back that abandoned reservation? The answer is that you can stalk them all over the internet with a form of advertising called retargeting.
What is retargeting?
Retargeting is a form of online advertising that allows you to show specific ads to people who have visited your website.
It works like this:
You install 'java script' code on your website.

Someone visits your website.

The retargeting software you use makes sure that this person is tracked with a 'cookie'

This 'cookie' gives your remarketing software the ability to display your ads across the web, on sites that are a part of their network.
Here's a graphic from Practicology that explains how it works.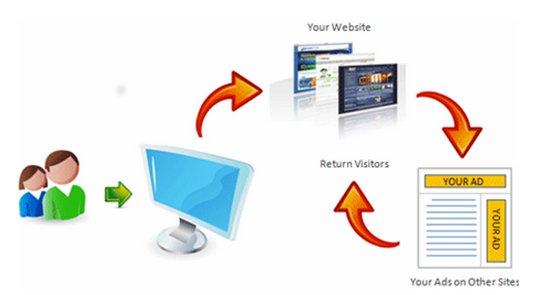 Where do people see your retargeting ads?
After people drop off your bed & breakfast's website, they can see your ads across the web, on…
Display Networks
Each retargeting platform will have signed up websites who agree to serve your ads. The websites become a part of the retargeting platform's display networks (eg. Google's Display Network).
Facebook (FBX)
Seeing as Facebook is the biggest social network in the world – and especially for bed & breakfasts – the retargeting platform you choose needs to be linked with Facbeook!
They will then place your ads in peoples' Facebook news feeds, as well as on the right hand side of the page.
Let's take a look at an example of a right-hand side ad that TripAdvisor has placed: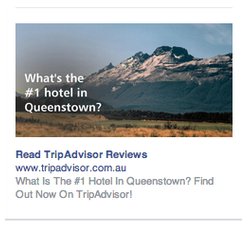 Previously, I had been looking for accommodation in Queenstown, New Zealand.
How can you get started?
If you haven't already started retargeting, you have some homework to do.
1) Choose your retargeting platform
The first step is deciding which platform you should use.  These are the biggest names in the business for you to assess: Google Adwords, Adroll, Retargeter, and Chango.
2) Create your retargeting segments
You have to decide how you're going to segment your website visitors, depending on which pages they viewed.  Retargeting enables you to be very specific.  If someone viewed a particular room, you can keep sending ads for that specific room to that person on Facebook.  This will have them thinking about you.  You can then tempt them to book a reservation by offering them an exclusive hot deal.
Retargeting ads are relevant to the people looking at them, because you know they've looked at your site. This makes retargeting ads much more effective than just serving random ads.
3) Create your advertisements
Each advertisement needs to closely represent the segments you decided to target.  So take pretty pictures of your property, and make sure they will attract attention no matter what site they're on.
Here are the standard retargeting ad sizes:
Web retargeting (most popular)
300 x 250

728 x 90

160 x 600

300 x 600

320 x 50
Facebook
If you don't have anyone to help you create those ads of yours?  Use one of the available software suites.  There are easy to use ad makers for non-techies, perfect for busy bed & breakfast owners who lack the required digital design skills.
If you want more tips on how you can create an engaging online presence for your business, follow the IAA Bed and Breakfast Blog and our Facebook Page.  
The IAA Bed & Breakfast Association helps new customers find your business.  You can start enjoying the benefits today for free by either claiming your business listing on our site or you can create your new business listing.
The best part is that you can get started today for FREE!
Click the JOIN NOW button above or below to claim your FREE business listing or set up your FREE business listing.