5 Unique Selling Propositions
Learning is often best done by example.  Below I've highlighted a small selection of brands that use their unique selling proposition to stand out and succeed in some tough marketplaces.  
Read on to learn how ThinkGeek, Saddleback Leather, and other great brands set themselves apart from their competition.  Each of these examples applies their unique selling proposition in a different way that differentiates them and sets them apart from their competitors.
ThinkGeek
Hobby stores for geeks are another example of an industry with a lingering reputation for personality defects.  They are often characterized as weird and filled with snooty employees who look down on beginners.
ThinkGeek, in comparison, is all about community, with unique features like customer action shots and an emphasis on novel products that build on already existing communities.  As a guy who still owns a Super Nintendo, their retro gaming section is much appreciated.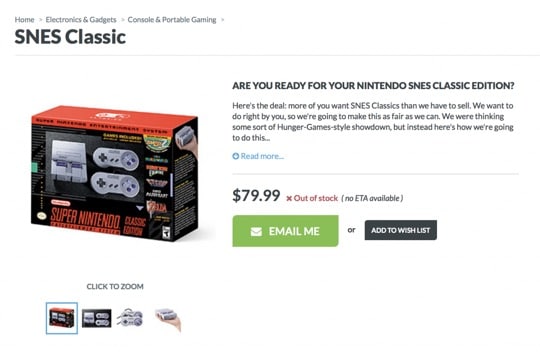 Take a lesson from ThinkGeek's playbook and closely examine the needs and wants of your ideal customer.  Ask yourself, "What often stops people from buying?"  When you have your answer, you will find your unique selling proposition.
Saddleback Leather
Saddleback Leather's company tagline is, "They'll fight over it when you're dead." Combine this with an "Our Story" webpage that includes a picture of a machine gun, and no one can accuse Saddleback of being a company lacking personality.
One of my favorite pages on the site is the "Our Rivals" page, where the owner invites customers to compare products with his biggest competitors:
I'm so confident that you'll find our classic look and over-engineered durability so hard to resist that I want you to shop around.  Go ahead … the more you shop, the better we look."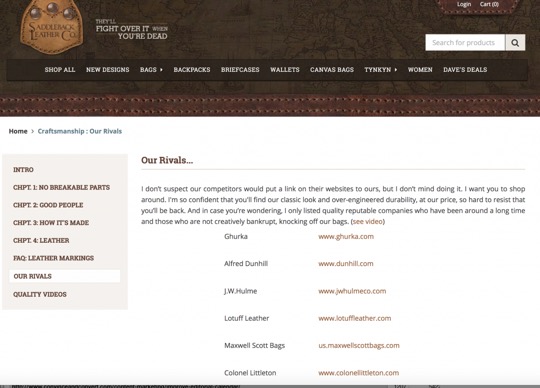 The positioning here isn't done for fluff.  The company sells expensive leather goods.  To justify these premium prices it makes sense to boldly call out your competitors.  The owner wants you to see the difference in quality to showcase why that bag you covet costs $500.
Saddleback isn't all about testosterone-driven declarations.  The owner also displays a very personal side with a webpage dedicated to his dog Blue.  This serves as a great example of putting your personality into your business in a way that won't lead to any Mike Jeffriescomparisons.
Ellusionist
Can a company really make a playing card deck interesting?  Ellusionist can.  Their whole business is built on selling things that are different, a must given that what they sell are 52-card decks!  How do they make these interesting and profitable?  By appealing to a highly specific customer: magicians.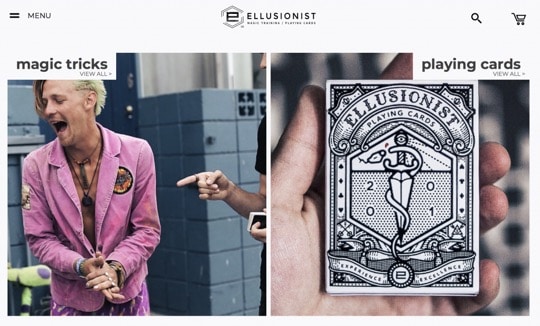 One of the cardinal sins of selling physical products online is offering something that consumers can find at any ol' store.  Ellusionist countered this by offering flashy, unique decks of cards that you really can't find anywhere else.
And since they cater to those interested in showmanship via card tricks, and the occasional extravagant poker player, they've cornered a niche market.  They own their market segment, instead of just being another producer of cheap decks of playing cards.
Everlane Apparel
As previously mentioned, the way you build your product and the values you stand for can be important parts of your unique selling proposition.  Everlane apparel stands out from the crowd in this respect.
The company culture wholeheartedly promotes what they call radical transparency.  They pride themselves on a diligent, upstanding process for the manufacture of their goods, with the motto, "Know your factories. Know your costs.  Always ask why."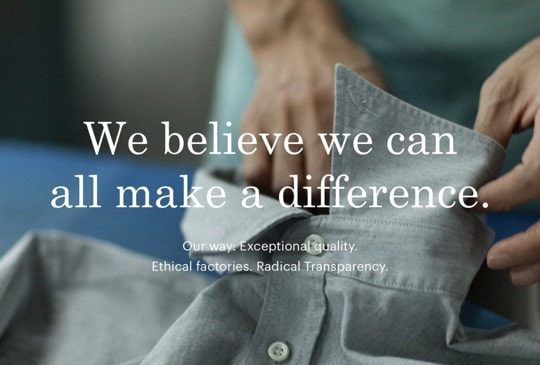 Since Everlane sells what they call "luxury basics," product differentiation isn't achieved through flashiness.  They excel through a sincere interest in how the company makes their goods, conducts business, and gives special attention to their craft… down to the last v-neck.
Man Crates
In a stellar example of machismo made fun again, Man Crates is an online store that ships "stuff guys like" in wooden crates that have to be opened with a crowbar.
While their items themselves make great gifts for guys, such as customized beer mugs, grilling equipment and beef jerky.  It's the unique positioning that really sells this brand.
Man Crates oozes personality at every turn, and as a customer myself I had a hearty laugh at the company's help page, which boldly declares "try harder if you can't open your crate."
Few companies could get away with a help section that tells you to try harder.  However when it's guys buying gifts for other guys, not following directions and not asking for help is simply part of their message.  It's as if it was your rite of passage, just opening their package.
The bravado here is welcomed and doesn't cross over into areas where it doesn't belong.  When I contacted Man Crate's customer service about an misdirected delivery, their customer service representative was quick, helpful and friendly.  This shows that exceptional service takes priority over their brand's image.
It's Still about Selling
Just as relationship marketing is as much about the marketing as is it about the relationships.  The same applies for creating a unique selling proposition.  A unique selling proposition is a form of differentiation that needs to be built around actually selling more products and services.
A unique selling proposition is not just to make your business into a quirky brand that stands out but can't get traction.  In the book Reality in Advertising, advertising executive Rosser Reeves lays down three rules that unique selling propositions should follow if they wish to be more than just creative branding:
Each advertisement must make a proposition to the consumer not just words, product puffery, or show-window advertising.  Each advertisement must say to each reader:  "Buy this product, for this specific benefit."

The proposition must be one the competition cannot or does not offer.  It must be unique, either in the brand or in a claim the rest of that particular advertising area does not make.

The proposition must be strong enough to move the masses, by attracting new customers.
Ensure that you stand out for the right reasons.  Ensure that your brand's positioning is intended to sell, not just to stand out.  
It's Your Turn
My curiosity has gotten the best of me, I want to hear what your business does differently!  Share your story in the comments below.  Or, tell us about a business you love that stands out among the competition.